Volunteer and Internship Opportunities
The Pollinator Partnership (P2) welcomes and encourages highly motivated individuals to apply to become volunteers of our organization. While our needs vary from time to time and vary by location, we will make every effort to match your skills, abilities and interests to the needs of our organization when opportunities are available. P2 also welcomes and encourages students who are interested working hands on to gain experience by supporting our work through internships. We are therefore offering Summer and Fall Internship opportunities.
Thank you for your interest in volunteer opportunities with the Pollinator Partnership. Without volunteers and interns, P2's information wouldn't reach thousands of people to help the pollinators, ecosystems and environment.
I want to Volunteer for Pollinator Partnership!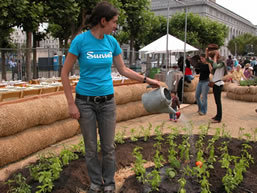 If you are interested in volunteering or interning for the Pollinator Partnership, please scroll down, complete the volunteer/intern form, and submit it to us.
Pollinator Partnership Volunteer and Intern Form